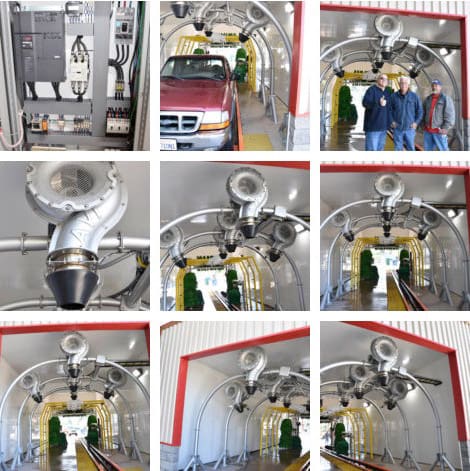 Click image above to view gallery
Smarter, Stronger, Lasts Longer … up to 70% more energy efficient. AutoDryer™ is a carwash drying system that's ultra-durable and remarkably energy efficient. Unlike traditional systems that use plastic dryer housings, AutoDryer™ features solid cast aluminum housings. This new design outlasts and outperforms the competition. In addition, the AutoDryer™ system can be equipped with DryerIQ™, an advanced power management Motor Control Center that ensures maximum energy efficiency and maximum savings. AutoDryer™ is taking the carwash industry by storm, leaving traditional energy hogging dryer systems in the dust . . . and slashing operating costs by an average of up to 70%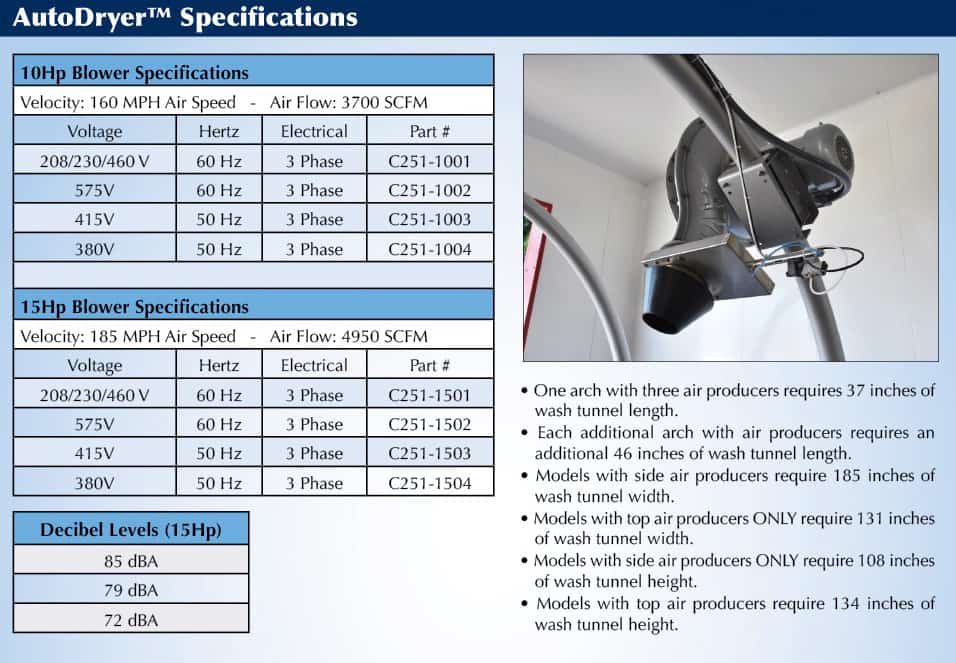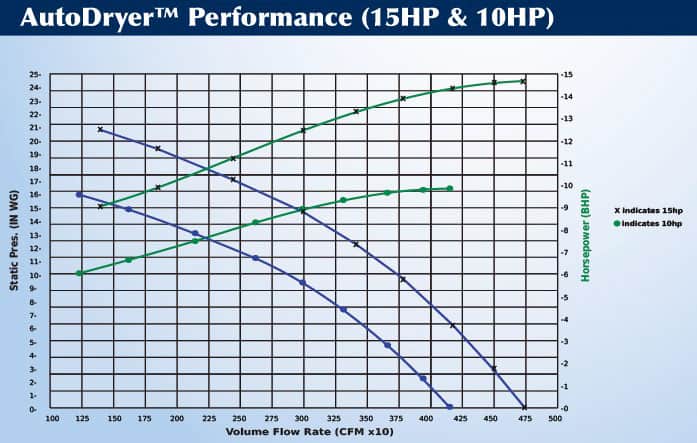 AutoDryer™ Features
The AutoDryer™ System dries vehicles very efficiently. The blower housing is cast aluminum which is rigid, crack-resistant and impervious to the elements. Its unique engineered casting design incorporates a scrolled housing that produces high CFM and air pressure velocities to maximize drying performance. Our backward curved impellers are manufactured to strict standards. All AutoDryer™ Systems are built on a structurally sound blower frame made of aluminum, stainless steel or coated carbon steel. Available in 10 or 15 horsepower models. Add DryerIQ™ to maximize performance and efficiency.
Features
Solid cast aluminum housings form a rigid no-flex design Larger,
more efficient impeller blades,
Customizable layout,
Customizable color High Quality Components,
Arch assembly available in several styles,
Nozzle are easy to change and available in 4 styles.
Benefits
No "Oil-Canning", rigid design holds its shape and resists cracking,
dramatically longer equipment life
Larger air blades create greater pressure (made possible by rigid aluminum housing)
Dryers can be arranged to your exact specifications,
units are interchangeable for left or right mounting Match your wash's color scheme Our impellers,
air actuators,
fasteners and hardware are designed for maximum reliability and durability
Choose a material that fits your needs: steel (with Endura paint),
stainless steel, or aluminum
Create the ideal air pressure and airflow where you need it
DryerIQ™
The DryerIQ™ Difference Every AutoDryer™ system can be equipped with DryerIQ™. This proprietary power management program features highly specialized computer software and a dynamic variable frequency drive (VFD). DryerIQ™ effectively matches the RPMs of the blower's motor to match the load. DryerIQ™ does this by managing the RPMs – not just restricting air flow. This is a significant departure from traditional blower models which simply close a valve, or air brake, between cars. Closing an air brake reduces the load on a motor – BUT that motor is still running full throttle and spinning its blades at max RPMs. It does very little to combat the wear and tear on equipment, and fails to capture the remarkable energy savings made possible by DryerIQ™. (See below.)